Sportslick is an easy to apply gel for extremely long lasting waterproof lubrication.
You will enjoy the mild vanilla scent, and its nice silky feel.
Sportslick washes off with soap and water.
Apply Sportslick anywhere you suffer from friction irritation, such as thighs, underarms, neck, and nipples. It prevents rawness caused by skin rubbing against skin, heart monitors, sports bras, clothing and athletic equipment.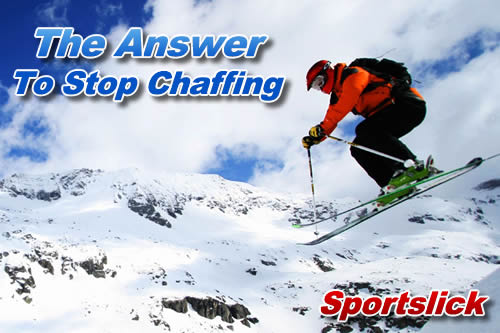 Run, Run, Run Away...
For blister prevention you can apply it directly to your toes and feet.
Spoke'n like a Cyclist...
Sportslick provides a smooth comfortable ride for your "seat" and the antifungal keeps the "itchies" away. Rawness, rashes, and a sore saddle become a thing of the past.
Baby, it's cold outside...
A thin coating of Sportslick applied to your face, cheeks, and lips, will prevent sunburn, chapping, and windburn.
Roll, Roll, Roll your Blades...
Sportslick keeps away those annoying blisters in the arch of your foot. Just put a layer on your skin, put on your socks and your skates, and just keep rolling along!
Survival of the Fittest
Adventure Athletes compete in incredibly strenuous events. Sportslick protects the athlete's feet from the friction that can cause blisters with its distinct combination of ingredients. It has been successfully used by several teams and is a must-have at the new Adventure Racing Camps, such as Girls Team, Trident Adventures, and Conquer the Coast.
For use with wetsuits, you apply Sportslick to the neck and underarms. Sportslick has been thoroughly tested and
proven safe for wetsuits
.

Sportslick was created by combining Petrolatum with Silicone for long lasting waterproof protection, then adding the leading antifungal agent, Tolnaftate with healing ingredients, Aloe, Vitamin E, C, and natural plant extracts.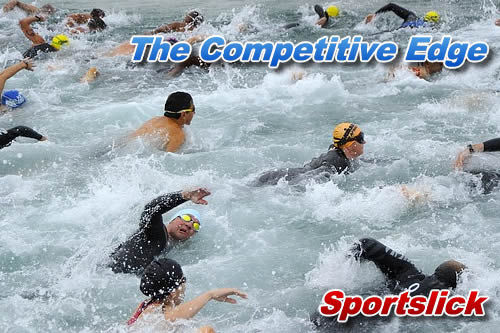 Soothing Aloe, Antioxidant vitamins A and E, and other natural ingredients moisturize and rejuvenates your skin.
Created by a physician, this unique formula combines the proven antifungal (Tolnaftate) and a popular antibacterial (Triclosan) to guard against infection.
Easy to apply to your feet, legs, thigh, groin, underarms and neck, Sportslick stays where you put it! It won't come off until you wash it off with soap.
The leading antibacterial, Triclosan. The finest grade Petrolatum was chosen because it is the most effective lubricant available. It is used safely in hundreds of skin products and medications. It is non-comedogenic and hypoallergenic. Sportslick has been proven not to harm wetsuits or athletic equipment.
Silicone - binds to the skin for long lasting waterproof protection.
Petrolatum - a proven safe lubricant and moisturizer
Polymers - for a slippery feel and a lasting glide
Tolnaftate 1% - the leading antifungal agent (FDA Proven Effectiveness)
Aloe - plant extract that heals and moisturizes skin
Vitamin E - antioxidant that helps Vitamin E work more effectively
Soybean Oil - plant extract that repairs and rejuvenates the skin
Natural Oil Fragrance - vanilla almond oil
Triclosan - popular antibacterial

Heal scrapes, road rash and minor cuts.
Soothe and moisturize dry skin.
Protect and soften chapped lips.
Calm itching and irritation.
Shield wounds and burns with an antiseptic barrier.


Sportslick is a product that athletes will truly enjoy! This remarkable advancement in skin lubrication is superior to any other on the market. As a physician and endurance athlete who has finished 27 marathons and numerous triathlons during the past 3 years, my development of Sportslick was a labor of love. It saved me from friction blisters, thigh chafing, and fungal problems during my extended training, and I am proud to share it with my fellow athletes.
I had a problem with friction blisters when I ran long distances, and terrible chafing between my thighs and under my arms. Vaseline TM helped, but it did not last very long, and it felt thick and "draggy". I improved it by mixing in a waterproofing agent to make it last longer, and a slippery additive to make it slick. It worked great! During marathons I would go by runners sidelined on the curb nursing their blisters. I knew that my private mixture would have saved them, so I devoted my efforts to bring this remarkable product to the public.
I also suffered from occasional athlete's foot and jock itch, and would apply antifungal cream to the same areas that I was applying the mixture. I decided to add 1% Tolnafate, a clinically proven antifungal agent (identical to Tinactin TM). I then added aloe, natural oils and vitamins to provide even more benefits for the skin.
The big test came when I prepared for an Ironman distance triathlon. I would cycle for hours, and my "seat" would get sore and chafe. I tried different bike seats, gel pads and the highest quality chamois shorts, but nothing worked well. I discovered that a lot of the pain was due to friction from the bike short pad rubbing against my skin. After applying Sportslick there was a huge improvement in how long I could ride without discomfort.
Swimming with a wetsuit in the ocean gave me new areas of friction misery. The back of my neck would chafe raw after a mile of swimming, and my underarm areas would also be tender. I applied the Sportslick, and these problems disappeared. Sportslick does not harm wetsuits, as tested by several wetsuit manufacturers. Mine is in perfect condition!
The final combination of ingredients was spectacular and far exceeded my hopes. No more friction blisters! No more athletes foot! No more chafing! My skin's texture and appearance have improved as well.
After working initially for over one and one half years with two chemists, and extensive testing, I was pleased to bring this product to you. Over the past few years we have improved Sportslick using comments from our many users. We added the leading antibacterial, Triclosan, and changed the texture and color to be more visually appealing. Our changes in the formula make Sportslick last even longer than before!
As a physician, I find satisfaction in helping people, Being able to share Sportslick with other athletes makes me very happy. I hope you enjoy it as much as I do!
Samir Shahin, M.D. Diplomate, A.B.P.M.